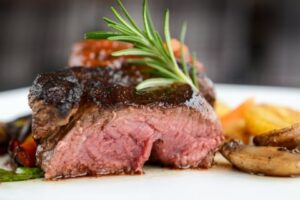 There are so many options for dining out you are spoilt for choice but for those who would love to stay in their guesthouse for the evening, and not have to cook, we do have options.
We have a private chef who will deliver a delicious dinner (two course) to you. We provide you with a menu, you make the selection and it arrives at a pre-determined time to suit you. Usually 72 hours notice is required.
Choose from a delicious selection of mains, fresh seasonal vegetables or salads and very tempting desserts, served directly in your guesthouse. These options are prepared from local, seasonal produce where possible.
Special tastes and dietary requirements can be catered for.
We need 72 hours notice for dining, so please inquire when booking.
If you have booked two guesthouses, our private chef can prepare a dinner party for you, with a delicious selection of main course and desserts to enjoy at your leisure.